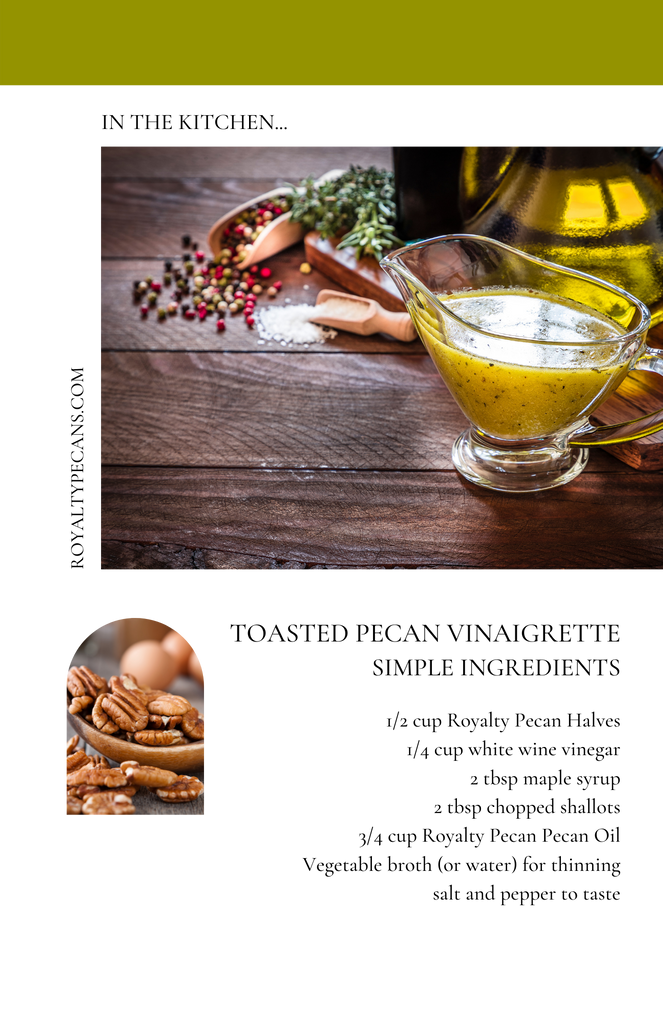 March 10, 2022
Try this earthy and rich vinaigrette on your next salad. Be sure to @royaltypecans in your social posts! We love seeing how creative you are with our Always Fresh pecans!
Toasted Pecan Vinaigrette
Prep time: 5 min     Cook Time: 10 min    Servings: 1.5 cups
Ingredients
½ cup Royalty Pecans Pecan Halves

¼ cup white wine vinegar

2 tbsp pure maple syrup

2 tbsp chopped shallots

¾ cup Royalty Pecan Pecan Oil

Vegetable broth or water for thinning around ½ cup

Salt and pepper to taste
Instructions
1. Preheat the oven to 350 degrees. Place Royalty Pecans Pecan Halves on a cookie sheet.
2. Bake the pecans, stirring occasionally, until toasted and fragrant. Around 10 minutes. Cool completely. Coarsely chop the pecans.
3. In a high-powered blender or food processor, add pecans, vinegar, syrup, and shallots. While blending, slowly add in Royalty Pecan Pecan Oil. Blend until completely smooth. Add broth or water as needed to thin.
4. Season the dressing with salt and pepper.
5. Store in the fridge for up to 3 weeks